Previous conferences | Presentations
Housing Fit for the Future
The Eco Design Advisor Conference 2019
24-25 October 2019 – Auckland
 This year's Eco Design Advisor Conference looks at the convergence of housing and climate change. The impacts of climate change are becoming increasing obvious: melting ice caps, rising sea levels, increasing number and violence of storms, longer droughts and hotter summers.  It is clear that our housing stock needs to respond.
The conference will look at both the contribution housing makes to climate change – from the embodied energy in our homes to the energy choices we make – AND how our housing needs to respond to the impact of changing climate.  It will consider both mitigation (reducing energy demand through improved thermal envelope/efficient heating, innovative energy solutions etc. as well as smarter use of materials to embody carbon in buildings) and adaptation of housing stock (response to extreme weather events).
The conference will place housing firmly in the centre of considering the latest advances and research on climate change, and will explore the implications for how we build and design housing now and into the future.
The Eco Design Advisor conference brings together the latest research from climate change and building scientists, central government policy and implementation, case studies and design insights from architects, designers and building professionals.
Professional development for architects and designers, builders, building industry, community housing organisations, council staff, home assessors and advisors, and sustainability experts.
CPD points: The following organisations are offering points to their members for attending this conference
NZIA is offering 80 NZRAB points
ADNZ is offering these points:
• Day 1 (Thurs) – 5.5 Design points + 1 Practice Management point
• Day 2 (Fri) – 5.5 Design points
• Or full conference (both days) – 11 Design points & 1 Practice Management point
View full programme
Register now
The Eco Design Advisors would like to thank all of the sponsors of the 2019 conference for their generous support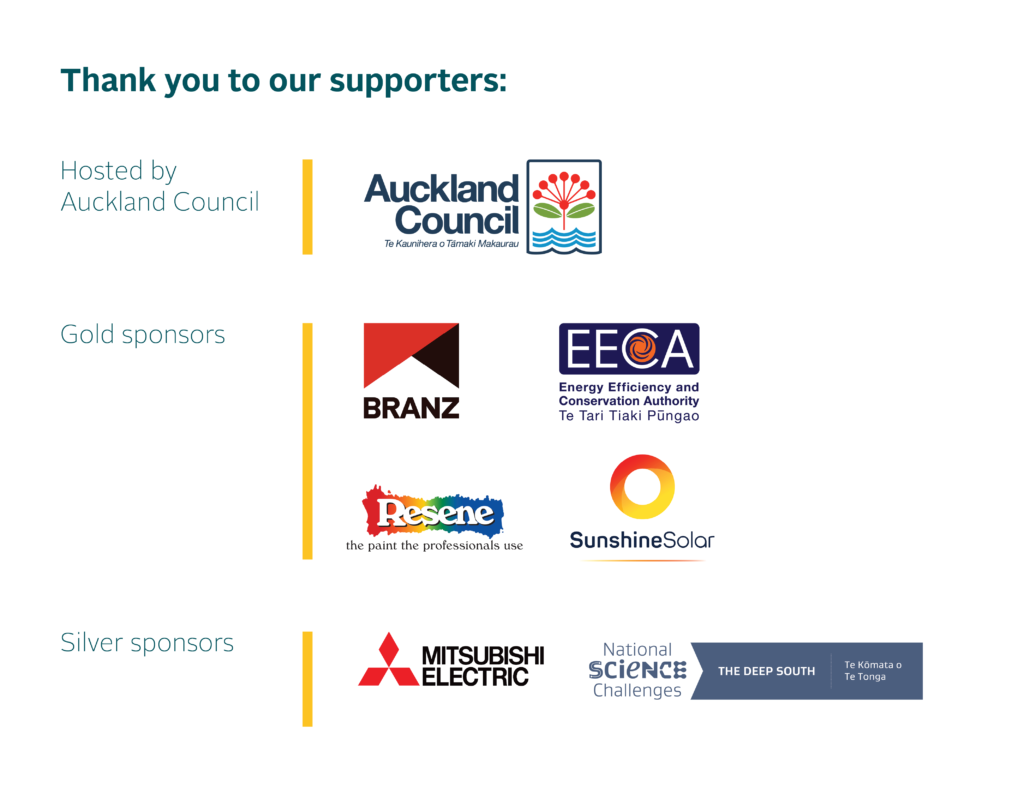 The annual Eco Design Advisor conference is where research and policy meet best practice advice for households. The Eco Design Advisor conference provides a unique perspective and is highly valued by practitioners, architects, designers, researchers and building professionals as a multi-disciplinary forum for sharing research, policy, case studies, innovative ideas, and best practice. It is steadily gaining a reputation as a key event in sustainable and healthy building education.
Here are some quick tips to keep the planet happy as you attend this conference
Please offset carbon of your flight (AirNZ and Jetstar offer the option as you book)
Travel into Auckland CBD using the bus
Book  accommodation within walking distance of venue
Look at your accommodation's environmental strategy, e.g. Qualmark